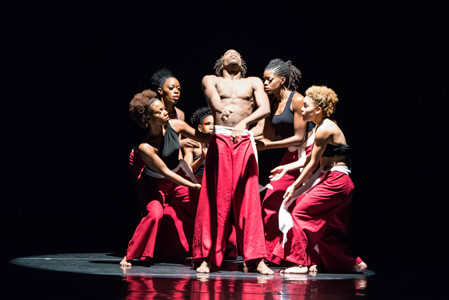 Dayton Contemporary Dance Company received a $55,850 grant this week to expand its work with underserved populations at Historically Black Colleges & Universities.
The Engaging Dance Audiences grant is administered by Dance/USA, the national service organization for professional dance, and generously funded by the Doris Duke Charitable Foundation. The grant program, which focuses on refining and sharing dance audience engagement practices, awarded $1,112,000 in total funding this year to 21 organizations across 11 states.
"Dance is communication through movement," DCDC Artistic Director Debbie Blunden-Diggs said. "It's an extraordinary way to cross boundaries."
DCDC won grant funding for its Young, Gifted & Black tour, designed to reach HBCU campuses through mainstage dance concerts and accompanying residency activities, such as master classes and audience talkbacks.
Since launching the touring program in 2015, DCDC has performed at 11 historically black colleges and universities across eight states. The infusion of Dance/USA grant dollars will allow DCDC to partner more deeply with the colleges — advance visits with faculty will enable DCDC leaders to further tailor residency activities to the individual campuses.
"Because we are rooted in the African American experience, it is important that we serve this population, some of whom might not have had the opportunity to be exposed to the contemporary dance art form, from the perspective of the African American diaspora," Blunden-Diggs said.
Other programs receiving funding next season partner with middle schools, community colleges, museums, churches, neighborhood advisory committees, city agencies, parks and cultural centers to reach African, Asian, Latino, Native American, LGBTQ, Muslim and incarcerated individuals. Dance genres include African, ballet, Bharatanatyam, hip-hop, Irish, Mexican folkloric, Odissi, samba, stepping and tap, among others. See all grantees here: https://danceusa.org/eda-round-4-grantees
"This new round of Dance/USA EDA funding reaches a robust mix of forms, geographies and communities of concern, vividly illustrating the variety of settings within which audiences can connect to dance," said Maurine Knighton, program director for the arts at the Doris Duke Charitable Foundation. "We are pleased to support Dance/USA in sustaining and growing the vibrancy of dance in communities around the country."