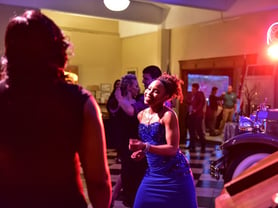 Dayton Contemporary Dance Company brings the sounds and tastes of New Orleans to you at this year's annual Soulstice: Beignets on the Bayou.
Hand your keys to the valet and step into the vintage atmosphere of America's Packard Museum, 420 S. Ludlow Street, Dayton, OH, to be transported to the low country. The scents of zesty jumbalaya and a parade of beignets will fill the air and mingle with the notes of trumpets and horns from Dean Simms Satchmo Band & the Red Hot Second Line brass band!
Mingle, beer or wine glass in hand, with the world-class dancers who captivate you on stage. Celebrate with us as we notch one more year on the road to our 50th anniversary.
While you're enjoying the music, bid on an item or two in the silent auction. This year's lineup includes a piece from James Free and Marlyn Jewelers, an in-home three- or four-course dinner for eight prepared by Chef David Glynn of Dayton Country Club, lodging for three nights at an upscale New Orleans hotel, and a Dayton Dragons luxury suite as well as local dining, spas, art and entertainment. A winning bid on a gemstone from Harris Jeweler includes a gift certificate to design your own custom piece of jewelry. Or win the opportunity to name a piece of DCDC Artistic Director Debbie Blunden-Diggs' choreography.
The annual fundraising gala supports the stunning art you see on stage, from the costumes to the lighting to the commission of new works like Ray Mercer's "This I Know For Sure," which premiered in Dayton last month to a series of standing ovations.
Proceeds from the gala also support our top-tier arts-integrated education and community engagement programs, which reached more than 60,000 people last year, including 25,000 students.
The evening will end with company dancers leading attendees in a traditional Second Line — you won't want to miss it!
The ticket cost is $150. Get yours at ticketcenterstage.com or by calling 937-228-3630. For sponsorship opportunities or corporate tickets, call Jay Peterson at 937-228-3232 ext. 113.