DCDC Marketplace
In mid-January, be on the lookout for the launch of DCDC Marketplace through DCDC's website. What will you find in our marketplace? Purchase educational videos designed for youth in grades 1-12, plus new branded merchandise! This initiative is another step in implementing our strategic plan.
Educational Videos Impact
DCDC's education programming reaches thousands of youth annually. Now, we're bringing even more moving experiences to the classroom with educational digital videos. These videos have been especially impactful during the pandemic, with students able to download and view them through their schools. Our library of videos includes:
"Abby and Her Friends: Let's Learn Together" (four videos)

"Nana Akua Goes to School" (grades 3-4)

"Symbolic Expressions" (grades 5-8)

"Curriculum Connections: Language Arts, Culture, Fine Arts: Dance"

"The Lyricist: A Modern Day Poet" (grades 6- 12)

"Stains," by dance artist Quentin Apollovaughn Sledge

"Climate Change"

"Energy Works"
We also offer shorter videos, called "Brain Breaks," to help get students energized to learn—fast! The following Brain Breaks videos are available for grades K-1 and grades 2-3:
"Get Up and Dance"

"Health Is Wealth"

"Refocus Energy"
Dance Affinity Group
We're excited to introduce our Dance Affinity Group (DAG), which we recently formed to welcome former DCDC dancers back into the family. Officially, more than 50 former dancers meet periodically through DAG efforts, and many have formed their own dance companies. The impact of DCDC is ever-growing.
During a recent DAG meeting held through Zoom, former DCDC dancer Asako Ichihashi, who lives in Iceland, learned that another member of the DCDC family, Devin Baker, was working on a project in Iceland.
Thanks to a bit of serendipity, Asako and Devin were able to meet after a performance in Iceland. They each shared with us how it felt to make a new connection within the DCDC family.
Asako Ichihashi holds a Master of Arts Education degree and teaches dance in Iceland, where she has resided since 1993. She shared these thoughts about meeting Devin: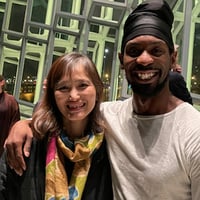 "I danced with DCDC during the 1991-93 season after I graduated Shenandoah University in Virginia. In the summer of 1993, I moved to Iceland. Even though I was only with the company for two years, I have so many memories and I have often thought about DCDC. I attended a Zoom meeting of DAG and it was nice to meet Kevin, Debbie, and other DCDC family online. In that meeting, Kevin and Debbie mentioned there was a dancer from DCDC, Devin Baker, who was staying in Iceland for a project. I was reading a newspaper in the morning before going to work and I found an article about a dance performance that night in Harpa concert hall. I found Devin Baker´s name in the article, and I got so excited that I could meet the dancer from DCDC in Iceland!
After the performance, I talked to Devin. It was a very interesting feeling to meet him. We had never met before but because we knew our connection was DCDC, I felt like I was meeting a relative I had never met before, not a stranger I met for the first time. It was so great that I had a chance to meet him again and was able to talk more before he left Iceland. I was happy to hear that he felt the same way as I when we met after the performance. He told me that because he has watched old videos to learn repertoire, he had seen me in the videos, so he felt that he has known me even though we met just for the first time at the performance.
Since I reconnected with DCDC, suddenly DCDC got so close to me again and it is just amazing! I believe that Jeraldyne has planned this for us. I am very pleased that I have reconnected with my family in the United States which I haven´t heard from for a long time."
DCDC Dance Artist Devin Baker was featured in a multi-discipline project presented in Reykjavík in October. He shared these thoughts about meeting Asako:
"Excitement, pride, and respect were only a few emotions that I experienced when meeting the warm, gentle, pleasant, and humble presence of Asako Ichihashi. Although we had just met, there was an ease and familiarity in our energy that felt as though we were distant kinfolk meeting at a family reunion. Thank you, Asako, for your hospitality & love."
Strategic Plan
Last January, the Board of Directors passed DCDC's new strategic plan. Its creation was assisted by the consultation of Mr. Michael Kaiser, President Emeritus of the Kennedy Center.
The key eight drivers are: 1) a reserve fund, 2) a comprehensive campaign, 3) digital programming, 4) satellite cities, 5) DCDC as an African-American artistic, cultural, and intellectual hub, 6) special projects, 7) dancer enhancement, and 8) institutional marketing and branding.
Here's an example of a key driver: DCDC as an African-American artistic, cultural, and intellectual hub. "Hub" means a public arena in which African-American arts are explored, celebrated, researched, discussed, and disseminated. Hub events will market and brand DCDC to new constituencies, expanding its network and potential for fundraising.
Another strategic initiative is DCDC's satellite cities, where DCDC provides in-depth programming (performing arts and education services) on an ongoing basis. Thus, a satellite city is not a simple touring venue; it is a place where DCDC cultivates an identifiable cultural presence. As a result of DCDC's prior strategic plan, Cincinnati has become the company's first established satellite city. Due to its success in Cincinnati, DCDC will add one or two more satellite cities over the next three to four years.
You can find additional information about DCDC's strategic plan here.
National Transformational Grants
DCDC thanks the Andrew Mellon Foundation for their $774,000 change business grant, which is helping to drive the new strategic plan. In addition, DCDC recently received $100,000 from the Ford Foundation through the International Association of Blacks in Dance to support dancer excellence. DCDC is pleased with the support as we recognize this is another stamp of approval of our 53 years of existence and where we are going for the next half-century.
New Dancers
DCDC is excited to welcome three new dancers! Please join us in welcoming Ms. Sadale Warner and Mr. Aaron Frisby, both from Philadephia, and Mr. Zaki A Jani Marshal, from New Jersey. We're proud to be able to recruit outstanding talent from around the country.
Inside Out
DCDC's next performance, Inside Out, takes place February 26 at 7:30 PM and February 27 at 4 PM.
Location: The Victoria Theatre, 138 N Main St, Dayton, OH 45402
For tickets call 937-228-3630 or visit Inside Out | Dayton Live.
About the show:
If we learned anything during 2020, we're reminded that it's what's on the inside that counts.
The world has changed, and we've Evolve(d) the way we think about craft, art, and society. DCDC's resident choreographers embark upon new collaborations to explore life in a new world.
Inside Out is a unique collection of interdisciplinary and collaborative pieces imagined by Debbie Blunden-Diggs, DCDC's Chief Producing and Artistic Director. An evolution in real-time, this work shifts us toward the future that we hope for in an engaging evening of new works by the globe's most stunning choreographers. Witness the unveiling of three world premiere works rooted in DCDC's legacy.
Memphis native Countess Winfrey collaborates with jazz composer Wesley Winfrey on new music and dance. The exquisite score is brought to life by Dayton Jazz Ensemble and DCDC's performing artists. The set design and projections created by visual artist Kanetha Scott are inspired by Winfrey's choreography and the spirit of Memphis.
Winfrey's new work is the centerpiece of this concert, and you won't want to miss it.
Soulstice
DCDC's premier gala event returns both live and digitally on May 14, 2021, from 6:30 PM to 11 PM.
Location: Marriott at University of Dayton
For tickets call 937-228-3630 or visit Soulstice: Mahogany Nights | Dayton Live.
About the event:
DCDC's annual Soulstice gala wakes up the spring season with warm camaraderie, fine dining, earthy elegance, festive spirit, and select short performances by company dancers. This year's gala is Soulstice: Mahogany Nights. Think sultry evenings with moonlit waters, starry skies, and freshening breezes. Tickets start at $175.
For additional information, contact Jay Peterson, Director of Marketing & Special Events: jpeterson@dcdc.org