Gravity-defying dance, eye-opening collaboration and heartwarming reunion will mark Dayton Contemporary Dance Company's 49th season, Lineage.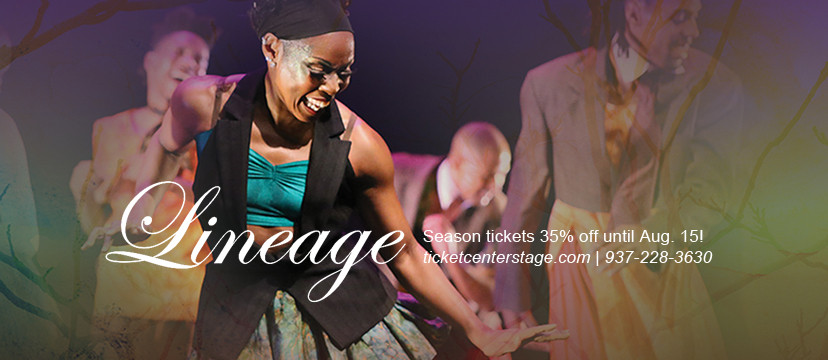 The season kicks off with Wynton Works, a salute to jazz trumpeter Wynton Marsalis, performed on the Victoria Theatre Saturday, Oct. 7 at 7:30 p.m. and Sunday, Oct. 8 at 4 p.m. The Dayton Jazz Ensemble will join DCDC onstage, where dancers will perform new original works by Stafford Berry and DCDC Associate Artistic Director Crystal Michelle. Dancers Qarrianne Blayr and Countess V. Winfrey will also join forces to choreograph a new work in collaboration with DCDC Artistic Director Debbie Blunden-Diggs.
"As a collaborator, Wynton Works is another opportunity to do my favorite thing — collaborate with other artists and art forms to present what we do," Blunden-Diggs said.
Catch a sneak peek behind the scenes in our studios, located at 840 Germantown St., Thursday, Sept. 21, at the season's first Up Close & Personal event. A light lunch will be served from 11:30 a.m. to 1 p.m.
DCDC will take the stage again in December with The Littlest Angel, Friday, Dec. 1 at 7:30 p.m. and Saturday, Dec. 3 at 3 p.m. and 7:30 p.m. at University of Dayton's Kennedy Union Boll Theatre. The annual holiday concert sets to dance Charles Tazewell's classic children's book tale of heaven's youngest angel and the season's spirit of giving.
In Reunited, past and present DCDC dancers will join forces onstage for one night only, Saturday, Feb. 24, 2018 at 7:30 p.m. at the Victoria Theatre, to kick off the company's 50th anniversary year! The lineup of historically groundbreaking works will carry the audience through DCDC's five decades and highlight the continuing vision that will carry it through five more.
"Seeing faces, old and new, is always really stimulating," Blunden-Diggs said. "The audience will receive some very special gifts."
Transparency will once again showcase DCDC2, the preprofessional training company, and the University of Dayton Dance Ensemble Friday, March 22, 2018 and Saturday, March 23, 2018 at 8 p.m. at UD's Kennedy Union Boll Theatre. Former DCDC dancer and current UD Theatre, Dance and Performance Technology DCDC Artist in Residence Amy Jones will lead the collaboration.
Catch a sneak peek at the collaborative process in University of Dayton's Raymond L. Fitz Hall Black Box Theatre, Friday, March 9, 2018, at the season's spring Up Close & Personal. Light refreshments will be served from 11:30 a.m. to 1 p.m. and 5:30 to 7 p.m. Space is limited.
DCDC's annual fundraising gala, Soulstice, will be held at the Dayton Art Institute Friday, April 13 from 7 to 11 p.m. This year's theme: A Masked Affair. Accessorize accordingly.
In May, the company will travel to Russia and Kazahkstan through DanceMotion USA, a U.S. State Department cultural exchange program. The trip will present DCDC an opportunity "to once again share our work globally," Blunden-Diggs said.
Upon return, we'll celebrate with the third revival of our free summer concert, Street Beats, this time held in Courthouse Square, Saturday, June 9 from 5 to 9 p.m. Eat, drink and dance in the heart of our innovative and vibrant city. The event will also feature children's activities, so bring the whole family!
Full-season subscriptions are 35 percent off until Aug. 15. In addition to traditional full-season packages, a flex package is also available this year — purchase 6, 8 or 10 tickets and spread them out across the season, or invite a group of friends to one or two shows! Visit ticketcenterstage.com or call the box office at 937-228-3630.