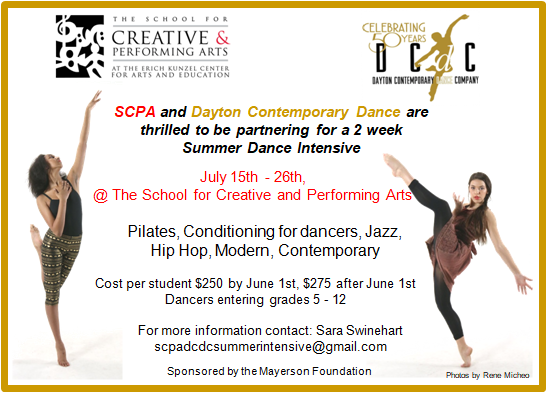 Dayton Contemporary Dance Company and The School for Creative and Performing Arts are partnering for a two week dance intensive. This prestigious program will take place July 15-26, 2019, 9:15a-3:45p at School for Creative and Performing Arts in Cincinnati. Students will explore Modern, Contemporary, Jazz, and Hip Hop dances as well as Pilates and Conditioning for dancers. All of the dance faculty will be curated by Dayton Contemporary Dance Company.
Dancers entering grades 5-12 are welcome.
There will be a finale performance at SCPA on July 27 at 7 p.m. $125 for 1 week/$250 for 2 weeks of camp ($275 after June 1.); $50 a day; $15 per class. Advanced Registration Required. Payments can be made online or to the Artistic Department drop box at SCPA or at the box office between the hours of 12:00-5:00. Forms of payment accepted? Credit Card, Money Order, Cash (no checks) We can take any type of credit card. The box office manager, Denise Beauchamp, can take cash or money order (payable to SCPA) at the box office window between 12-5. For more information or to request application materials, contact Sara Swinehart at spcadcdcsummerintensive@gmail.com Sponsored by Mayerson Foundation
Register Now!