For over 50 years, Dayton Contemporary Dance Company has not only embraced the art of dance and movement, but embodied the spirit of family and the human experience. In the last month we have all had to redefine what gathering looks like within the perimeters of social isolation. As dancers and as artists we have had to reinvent the way we create and the way we connect … with you, and with each other.
From the beginning, Artistic Director Debbie Blunden-Diggs and the dancers knew that the best way to get through these troubled times was together. In the spirit of togetherness, DCDC has united the way families always do – warmly embracing connection and interaction, even if through a screen. We were unwilling to sacrifice our love of dance, and more importantly, our love for each other. So we gathered, as we always have, first to pray, and then to dance, and finally, to create. Together we have worked through how to recapture the human spirit, redefining what it truly means to be family.
Thanks to technology, we are still choreographing, dancing, growing, and learning. We take class together daily, we sweat together, and we cheer each other on. Dancers in the company have begun choreographing and workshopping new material in preparation for next season. Virtual rehearsals have offered a collaborative environment, where exploration is cultivated and celebrated. We continue to hold each other up, and in some ways, it has been nice to slow down and remind ourselves just how healing dance can be. The stories we are telling each other through the art of movement are redefining who we are … as people, as artists, as family.
It has always been in DCDC's nature to break boundaries and bring awareness to the barriers that seek to limit us. Throughout history, in times of peril and struggle, family ties become stronger, the love extends deeper, and compassion and understanding flourish with grace and mercy. The daily exploration of these emotions is what continues to make the spirit of DCDC prosper. As with any family we have leaned into each other for support and guidance. We have challenged ourselves to think outside of the box and expand our creativity. So, in these days of social distancing and separation we, along with the rest of the world, have found that we are reconnecting in ways that we never anticipated. Instead of growing apart, we are growing together. And together, we want you to know that just like family, we will continue to be there for you until we can all be together again, celebrating our human connections through the love of dance.
We can't wait to share with you all the exciting things that have been happening virtually since we have been working from home. We urge you to continue following us on any platforms that are accessible to you. We will be sharing clips from our daily company classes and rehearsals, as well as interviews with dancers, where you can get an "up close and personal" view on how company life has changed as a result of self-isolation. We are so proud of the work we continue to do, and in the spirit of Jeraldyne, we believe that through struggle, there is light. We still have many stories to tell.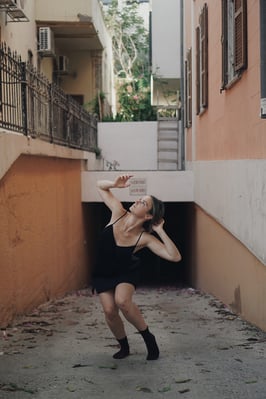 "Man has created boundaries for race, religion, and culture. If wecan get past that, we can realize that there is much more in lifewhich connects us."
— JERALDYNE BLUNDEN