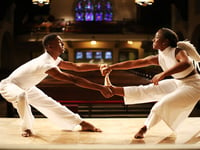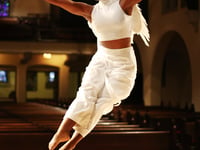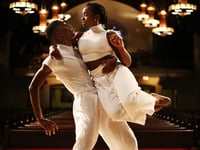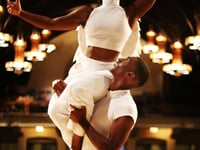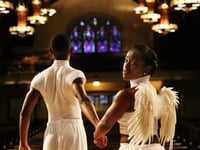 The Bessie award-winning Dayton Contemporary Dance Company will again bring the classic endearing children's book tale The Littlest Angel to the Dayton stage this holiday season.
The second work in the company's 2016-17 Story-Tellers season, DCDC dancers will use movement to translate Charles Tazewell's words, telling the story of a child who enters heaven and offers a gift to the Christ child that transforms the meaning of giving and sacrifice.
DCDC Artistic Director Debbie Blunden-Diggs remembers her mother, DCDC founder Jeraldyne Blunden, reading the story to her when she was a little girl. Blunden-Diggs danced a version of the story in her early years with the company. When she decided to revive it, Associate Artistic Director Crystal Michelle choreographed the current evening-length work.
"Every year I look at the work, I realize something different about myself," Michelle said. "This year, it's that I'm obsessed with angels. No one knows what it is to be an angel. It's a dimension we don't have access to, and that leaves a lot of space for imagination."
The show will be performed at Boll Theatre in University of Dayton's Kennedy Union on Friday, Dec. 2 at 7:30 p.m. and Saturday, Dec. 3 at 3 p.m. and 7:30 p.m.
"People love that it snows," Michelle said. "The tableaus with the dancers and the voice of the narrator bring the story to life in a way that reminds us of our parents telling a story. We settle into that childlike experience when watching."
Families can make the enchanting story come to life further with a visit to the Angel Cafe Friday, Dec. 2 from 5:30 to 7 p.m. or Saturday, Dec. 3 from 5 to 6:30 p.m. Children will meet The Littlest Angel as they make angel wing crafts, sing favorite Christmas carols and enjoy hot chocolate and Christmas cookies. Attendees will also take home a commemorative keepsake ornament. The cost to attend the Angel Cafe is $10 per ticket.
For more information on the family show, visit dcdc.org. Purchase tickets at ticketcenterstage.com or by calling the Ticket Center Stage box office at 937-228-3630.
Prorated season subscriptions are also available. These packages include tickets to the holiday show The Littlest Angel; Vantage Points, our March show on the Victoria Theatre stage that will showcase "searingly resonant" award-winning work and a brand-new piece by a renowned New York choreographer; and About Being, an autobiographical collaboration between DCDC's preprofessional company and University of Dayton's Ensemble dancers that will explore story circles.
For a sneak peek of the holiday show, check out #LittlestAngel on our social media accounts.