Dayton Contemporary Dance Company will travel to Russia and Kazakhstan next season.
DCDC is one of three dance companies across the United States tapped to tour internationally through the seventh season of DanceMotion USA, a dynamic cultural diplomacy program run through the U.S. Department of State and Brooklyn Academy of Music.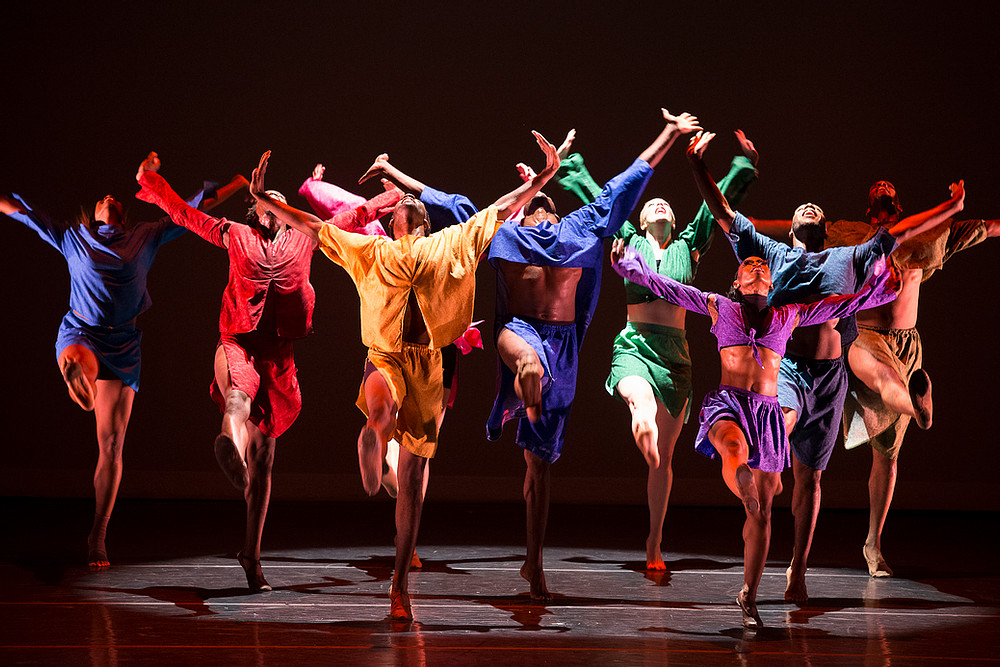 "This is an amazing opportunity to travel abroad," DCDC Artistic Director Debbie Blunden-Diggs said. "Dance is a universal language. It's always fun and exciting to experience our repertory in the eyes of an audience from a different country and background. Being able to exchange thoughts and ideas while there will serve our artists in a way we haven't been able to do in quite some time."
DanceMotion USA presents professional American dance to global audiences who may not otherwise be exposed to the work. DCDC will travel to Russia and Kazakhstan in May 2018.
"As we are planning for the 50th anniversary celebration of our world-renowned dance company, this particular invitation is a special blessing of renewed spirit as our legacy continues," DCDC CEO Ro Nita Hawes-Saunders said. "I'm excited for the dancers and for the exposure of our company to this world-wide audience. This kind of tour allows us to connect beautiful art to other cultures as we strive for knowledge and understanding of each other."
ABOUT DanceMotion USA
DanceMotion USA supports United States foreign policy goals by connecting Americans with overseas entrepreneurs and social leaders through professional development opportunities, outreach and educational events, and performances. It is a people-to-people international exchange initiative of the US Department of State's Bureau of Educational and Cultural Affairs, administered by BAM.
"We are honored to work with the Bureau of Educational and Cultural Affairs on this dynamic program that promotes cross-cultural exchange and awareness of both our differences and our commonalities," BAM President Katy Clark said. "DanceMotion USA is a prime example of the power of the arts to enhance people's lives, provide educational opportunities, and reveal new ways of looking at the world."
Companies participating in the program will embark on consecutive, four-week-long international professional development and performance residencies. The dance artists engage in outreach events, workshops, master classes and media interviews. They organize discussions about arts management and technical production with local artists and audiences in a variety of venues and settings.
A particular area of focus is working with diverse communities and promoting the empowerment of women, people with disabilities, and at-risk youth. In addition, a week-long capacity-building and professional advancement program will take place at BAM in the summer of 2018. This Brooklyn-based program pairs six foreign artists who participated in workshops and collaborated with the DanceMotion USA companies abroad with six local artists.
"DanceMotion USA has a deep and tangible impact on the global communities it reaches. While engaging international audiences through dance, it fosters personal connections and makes the world a smaller place," BAM Executive Producer Joseph V. Melillo added. "I know that our season seven participants will find their experiences expansive and rewarding, and I'm proud to join once again with our partners at ECA to make this program possible."
To date, DanceMotion USA has engaged with more than 114,000 participants in 55 countries and has reached more than 40 million people online. It is an integral part of the US State Department's effort to connect people—particularly youth and marginalized communities—through cultural exchanges worldwide. The program also has provided rich experiences for the US-based dance companies and choreographers, who advance their own careers and professional development opportunities through their work with internationally-based artistic colleagues.
Also traveling abroad through DanceMotionUSA next year are Bebe Miller Company of Columbus, heading to Columbia and Peru; and Ririe-Woodbury Dance Company of Salt Lake City, heading to South Korea and Mongolia.
Companies that have participated in previous seasons of DanceMotion USA include Urban Bush Women; ODC/Dance; Evidence, A Dance Company; Jazz Tap Ensemble; Rennie Harris Puremovement; Seán Curran Company; Trey McIntyre Project; Doug Varone and Dancers; Hubbard Street Dance Chicago; Illstyle and Peace Productions; Spectrum Dance Theater; Mark Morris Dance Group; CONTRA-TIEMPO; David Dorfman Dance; BODYTRAFFIC; Dance Heginbotham; Limón Dance Company; KEIGWIN + COMPANY; Stephen Petronio Company; and Reggie Wilson/Fist and Heel Performance Group.