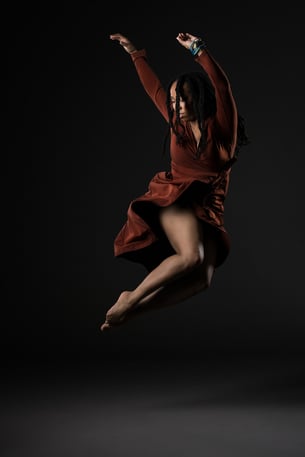 Dayton Contemporary Dance Company Associate Artistic Director Crystal Michelle Perkins accepted a position this week as an Assistant Professor of Dance at The Ohio State University.
Perkins, who lectured at OSU during the 2016-17 season, will continue her duties as DCDC's Associate Artistic Director, including choreographing a new work for the company's fall concert.
"This is a wonderful opportunity for Crystal and DCDC," Artistic Director Debbie Blunden-Diggs said. "I'm looking forward to being a part of this new adventure and all the possibilities it holds."



Perkins is also excited about the opportunity to continue the work of the company "through the lens of university research," she said.
"I'm looking forward to sharing the artistic practice I've learned here with my students and to having a seat at the table in a place that sees dance as a scholarly practice," Perkins said.
An Augusta, Georgia native, Perkins earned her bachelor's degree in dance performance from Southern Methodist University in Dallas, Texas in 2001. She also joined DCDC in 2001, first as a dancer, then as teacher, choreographer and dance education curriculum coordinator for the company. In 2013, she earned a master's degree from The Ohio State University's Department of Dance. In fall 2014, she stepped into her current role as DCDC's associate artistic director.
"She has been an exceptional asset to our company," DCDC CEO Ro Nita Hawes-Saunders said. "We are so very proud and excited about the opportunity for her and for the Dayton Contemporary Dance Company, as this association with The Ohio State University dance department can only be an additional boon."
As an independent choreographer, Perkins investigates the expectations and perceptions of African American Female bodies in popular culture. Through her work, she asks audiences to reconsider the race, gender and class boundaries that are placed on black women in performance. "I want my work to be a healing space for the performer, and the viewer," she said. "In my wildest dreams, these dances return the power of choice to the performer, and let us all imagine ourselves differently."